Self Portrait Tuesday - January 3, 2006
Today is
Self Portrait Tuesday
and this month's theme is "Personal History"
Next to my bed, I have a reading light and these two photos. They show me at two different periods in my life.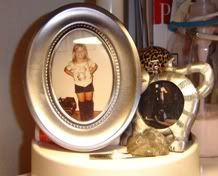 click on photo for larger view
The photo on the left shows me in my Aunt's room dressed in her boots. I guess I've always had a tendancy to enjoy the boots! When she gave me this photo, she told me that when I used to visit, I would run into her closet and start trying on her clothing and shoes. This sounds like me. I was a desparate snoop and while I've tried to cull it over the years, the desire is still there!
The second photo on the right shows me in front of Anne Frank's house in Amsterdam. I loved her book as a child and when I was given the opportunity to visit the city she spent her last few years in, I knew I had to visit her house and see the cabinet. This was a fun trip and this photo reminds me of Anne.