Obsession according to Dictionary.com
ob•ses•sion: noun
1. Compulsive preoccupation with a fixed idea or an unwanted feeling or emotion, often accompanied by symptoms of anxiety.
2. A compulsive, often unreasonable idea or emotion.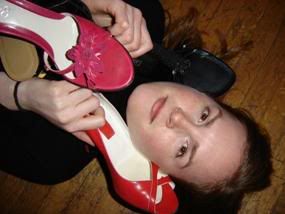 click on photo for larger viewMy obsession is with Dogs, Cats and Yarn. Seriously, I adore pets and I start to shake when I feel really good yarn. My best friend's obsession is with shoes. She even has "shoe pimps" as she calls them looking out for the best shoes in her size. If she could have a house built of shoes, I think it would make her happy.